Sharp MX-C250F Driver Download ↔ The Sharp MX-C250F is a compact multifunction printer designed for small to medium-sized businesses or home offices. It offers printing, scanning, copying, and faxing capabilities, making it a versatile all-in-one machine.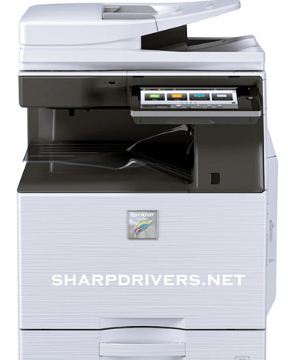 In terms of print quality, the MX-C250F produces sharp and clear text, and decent quality images. It has a maximum print resolution of 600 x 600 dpi, which is good enough for most office documents. However, if you need to print high-quality graphics or photos, you may want to consider a printer with a higher resolution.
The MX-C250F has a maximum print speed of 25 pages per minute (ppm) for both color and black and white prints, which is quite fast for a printer in this price range. It also has a maximum scanning speed of 27 images per minute, making it a good choice for scanning large documents.
One of the standout features of the MX-C250F is its compact size. It measures 17.3 x 23.1 x 23.2 inches and weighs only 71.7 pounds, making it easy to fit into small spaces. It also has a built-in duplexer, which allows for automatic two-sided printing and helps save on paper costs.
Another plus is the MX-C250F's connectivity options. It comes with both USB and Ethernet ports, making it easy to connect to your computer or network. It also supports mobile printing, so you can easily print from your smartphone or tablet.
However, there are a few downsides to the MX-C250F. First, it can be a bit noisy when printing, which may be an issue in a quiet office. Additionally, the cost of replacement toner cartridges can add up over time, making this printer a bit expensive to operate in the long run.
Overall, the Sharp MX-C250F is a good choice for a small to medium-sized business or home office that needs a compact, versatile all-in-one printer. Its fast print and scan speeds, mobile printing capabilities, and built-in duplexing make it a solid choice, although its noise level and ongoing operating costs may be a concern for some.
The Sharp MX-C250F uses four toner cartridges, one for each color (cyan, magenta, yellow, and black). The toner cartridges have a page yield of up to 2,000 pages for the black cartridge, and up to 1,500 pages for each color cartridge.
When it's time to replace the toner cartridges in your Sharp MX-C250F, you can purchase new cartridges from various retailers, either online or in-store. Genuine Sharp toner cartridges are recommended for optimal print quality and machine performance. However, there are also compatible and remanufactured toner cartridges available from third-party manufacturers that may offer cost savings.
It's important to follow the manufacturer's instructions when replacing the toner cartridges to avoid any damage to your printer. To replace the toner cartridges in your Sharp MX-C250F, follow these steps:
Open the front cover of the printer to access the toner cartridges.
Locate the toner cartridge that needs to be replaced and press the release button to unlock it.
Pull the toner cartridge out of the printer.
Remove the new toner cartridge from its packaging and shake it gently to distribute the toner.
Remove the protective tape from the new toner cartridge.
Insert the new toner cartridge into the printer, making sure it clicks into place.
Close the front cover of the printer.
Once the new toner cartridges are installed, your Sharp MX-C250F should be ready to print with optimal print quality.
Recommended : Sharp BP-20C25 Driver
Here are the steps for Sharp MX-C250F installation software for windows, mac, and how to driver downloads.
How to download:
Click Download File, to download the file.
When the File Download window appears, click Save & click OK.
If the Download Complete window appears, click Close.
How to install for Windows:
Use a USB cable to connect the computer and printer.
Double-click on the file that you downloaded.
After that, open the installed file & click run
Follow the on-screen installation instructions."
How to install for Mac:
Select the downloaded file.
Then, Click the MacOSx folder.
Click the folder for your version.
Click the installer package & follow the instructions.
Enter the Name and Password. Then click Install Software.
When the installation has been completed screen appears, click close.
Sharp MX-C250F Driver Software Download
Microsoft Windows 11, Windows 10 32-bit, Windows 10 64-bit, Windows 8 32-bit, Windows 8 64-bit, Windows 8.1 32-bit, Windows 8.1 64-bit, Windows 7 32-bit, Windows 7 64-bit, Windows Vista 32-bit, Windows Vista 64-bit, Windows XP 32-bit, Windows XP 64-bit.
Download ↔ Sharp MX-C250F Driver Windows 64 Bit
Download ↔ Sharp MX-C250F Driver Windows 32 Bit
Macintosh MacOS 12.0 (Monterey), MacOS 11.0 (Big Sur), MacOS 10.15 (Catalina), MacOS 10.14 (Mojave), MacOS 10.13 (High Sierra), MacOS 10.12 (Sierra), 10.11.x (El Capitan), 10.10.x (Yosemite), 10.9.x (Mavericks), 10.8.x (Mountain Lion), 10.7.x (Lion).
Download ↔ Sharp MX-C250F Driver Macintosh
Driver For Sharp MX-C250F Printer Official Website ↔ Sharp Site